Day 01: Arrive Luang Prabang (LAOS)
We are welcomed  upon arrival at Luang Prabang airport and transferred to our hotel. Check in time starts at 3:00 PM.  We embark in an afternoon sightseeing tour of the Town of Luang Prabang*, an outstanding example of the fusion of traditional architecture and Lao urban structures with those built by the European colonial authorities in the 19th  and 20th centuries. Its unique, remarkably well-preserved townscape illustrates a key stage in the blending of these two distinct cultural traditions. We explore the shrine of Wat Mai, famous for the five–tiered, timber-framed roof, the impressive stupa of Wat Visoun, and That Makmo.  We then take walk to the nearby Wat Aham, built in 1818 in classic Luang Prabang style, dedicated to Deveta Luang (spirit) Pu Gneu Ya Gneu (ancestors). Next, we walk the 328 steps to the summit of Phousi Hill, passing by various shrines for an enjoyable exploration of the sacred, gilded Wat Chamsi stupa as well as a beautiful sunset view of the city and the Mekong River. In the evening we explore the Night Street Market, where we can find lovely handmade textiles and woodcarvings made by the locals and nearby hill tribes.

Overnight: Villa Santi Hotel, Luang Prabang (2 nights)
Day 02: Luang Prabang/Pak Ou Caves/Luang Prabang
At dawn we enjoy a unique sight, as we watch the early morning ritual parade of saffron-clad monks collecting offerings of alms from the faithful residents and visitors, and from there have a stroll around the nearby morning market, where we will see such diverse offerings as dried buffalo skin, local tea and saltpeter among the chickens, vegetables and hill-tribe weavings. After breakfast at our hotel, we have a short-guided tour of Wat Sene, the city's oldest temple and the magnificent Wat Xiengthong, featuring roofs that sweep low to the ground, which represents the classical Luang Prabang temple architecture. We then board a traditional river boat and cruise upstream on the Mekong River to the sacred Pak Ou Caves, enjoying views of beautiful mountain landscapes and the tranquil countryside. On arrival, we explore the mysterious Pak Ou Caves, crammed with thousands of gold lacquered Buddha statues of various shapes and sizes. After our river trip, we drive to the famous hand-weaving village of Ban Phanom. (B)
Day 03: Luang Prabang/Vientiane (Flight)
We visit the National Museum (the former Palace of the King), featuring a collection of personal artifacts of the Royal Family. We then are transferred to the airport for our short flight to Vientiane. We are met on arrival at Vientiane Wattay airport and are transferred to our hotel. In the afternoon we embark on a city tour of the major sights of the capital, visiting Wat Sisaket, which features remarkable frescoes, as well as 6,840 Buddha statues. Our next stop is at the former royal temple of Wat Prakeo, which contains some of the finest Buddhist sculptures and artifacts in the country. We then head to the imposing Patuxay Monument, popularly known as Vientiane's Arc de Triomphe. Our final stop is at That Luang Stupa, built by King Setthathirath in 1566, considered as the national symbol of Laos.

Overnight: Dhavara Boutique Hotel, Vientiane (1 night) (B)
Day 04: Vientiane/Savannakhet (Drive)
We depart to Savannakhet, a bustling trade center and the second largest town in Laos, located by the Mekong River bordering Thailand. The journey is 480 km, and along the way we enjoy beautiful landscapes and stop en route at the Friendship Bridge, the Buddha Statue Park, Wat Prabath Phonsane (Temple of the Footprint of Buddha) and a tribal market. We also visit Thakek, featuring an ancient city wall made of stone and Sikhotthabong Stupa, Ban Nateuy and Inghan Stupa, a holy relic that attracts a number of pilgrims, before arriving at our hotel.

Overnight: Daosavanh Resort & Spa, Savannakhet (1 night) (B)
Day 05: Savannakhet/Lao Bao/Quang Tri/Hue (Drive) (VIETNAM)
Our day starts with a visit to the Central Market, before embarking on a 250-km-drive on the Trans-Asia Highway to Vietnam. After the customs and immigration procedures at the Denesavanh/Lao Bao border check points, we continue to the city of Hue*.   Established as the capital of unified Viet Nam in 1802, Hue was not only the political but also the cultural and religious centre under the Nguyen dynasty until 1945. The Perfume River winds its way through the Capital City, the Imperial City, the Forbidden Purple City and the Inner City, giving this unique feudal capital a setting of great natural beauty.

Overnight: Saigon Morin Hotel, Hue (2 nights) (B)
Day 06: Hue
Today we embark on a full day tour of the Complex of Hué Monuments*, exploring the Royal Citadel, built in 1804 on a site chosen in accordance with geomancy, followed by a stop at the lively Dong Ba market. In the afternoon we visit the elaborate mausoleum of King Tu Duc (ruled 1848 – 1883), followed by a visit of Thien Mu Pagoda, one of the oldest ancient architectural structures for religious worship in Hue. We end our dayon a boat cruise along Perfume River, before we return to our hotel. (B)
Day 07: Hue/Hoi An (Drive)
Today another interesting day as we enjoy a scenic drive to Hoi An via the Hai Van Pass. Many centuries back, this mountain pass formed a dividing wall between the ancient Cham culture in the south and the ethnic cultures of the Red River Delta. Eventually it became the dividing line between the North and the South. Along the way we visit the Museum of Cham Sculpture (closed on Mondays) and Linh Ung Pagoda in Danang. We check in at our and enjoy the remainder of the day at leisure.
Overnight: KOI Hoi An Resort & Spa, Hoi An (2 nights) (B)
Day 08: Hoi An
Hoi An Ancient Town* is an exceptionally well-preserved example of a South-East Asian trading port dating from the 15th to the 19th century. Its buildings and its street plan reflect the influences, both indigenous and foreign, that have combined to produce this unique heritage site. The town which is divided by canals and features an interesting mix of architecture dating to different eras. The architectural styles range from wooden Chinese shophouses and temples to colourful French colonial buildings. In the morning we go on a walking tour of the ancient town, strolling through the Japanese and Chinese Quarters to visit the iconic Japanese Covered Bridge and a number of temples, pagodas, communal houses, traditional shops, ornate Vietnamese tube houses and local markets. We will have ample opportunities to watch local daily activities, seeing local craftsmen at work.  Our afternoon is free at leisure. (B)

Day 09: Hoi An/Da Nang (Drive)/Hanoi (Flight)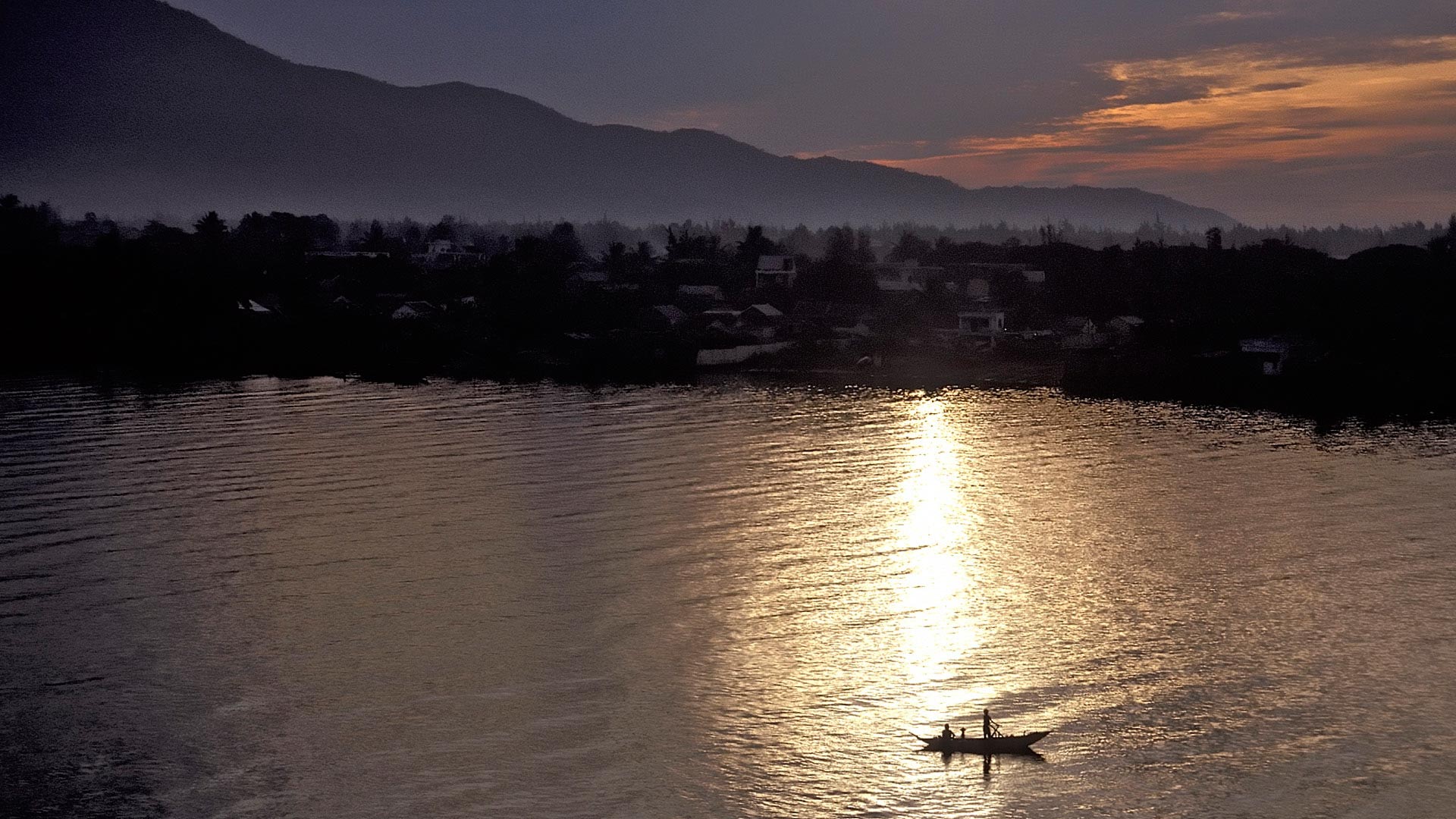 We are transferred to Danang airport for our morning flight to Hanoi. Upon arrival at Vietnam's capital we are met and transferred to our hotel. In the afternoon we visit St. Joseph Cathedral, a striking neo-Gothic cathedral, noteworthy for its square towers, elaborate altar and colorful stained-glass windows. We then take an hour-long pedicab ride around the Old Quarters of Hanoi. We also visit Bach Ma Temple and Ma May Ancient House. In the evening we enjoy a Vietnamese water puppet show, a tradition that dates back as far as the 11th century when it originated in the villages of the Red River Delta area of northern Vietnam.

Overnight: La Siesta Hotel, Hanoi (1 night) (B)
Day 10: Hanoi/Ha Long Bay (Drive)
This morning we drive to Ha Long Bay*, located in the Gulf of Tonkin, includes some 1,600 islands and islets, forming a spectacular seascape of limestone pillars. Because of their precipitous nature, most of the islands are uninhabited and unaffected by a human presence. The site's outstanding scenic beauty is complemented by its great biological interest. We board our cruise boat. Lunch with fresh sea food will be served while the ship is cruising through many stone islets, floating villages, small beaches. After lunch we visit the Van Ta area, featuring the Dark and Bright Caves by bamboo boats rowed by local people. We can also explore this area on our own by kayaking (depending on weather conditions). We will also have a chance to swim in the green emerald and cool waters. Our cruise boat then heads to a quiet designated overnight area. In the evening we get a Vietnamese cooking demonstration along with a traditional liquor tasting, followed by a delicious dinner on board.
Overnight: Sealife Legend Cruise, Ha Long Bay (1 night) (B, L, D)
Day 11: Ha Long Bay/Hanoi (Drive)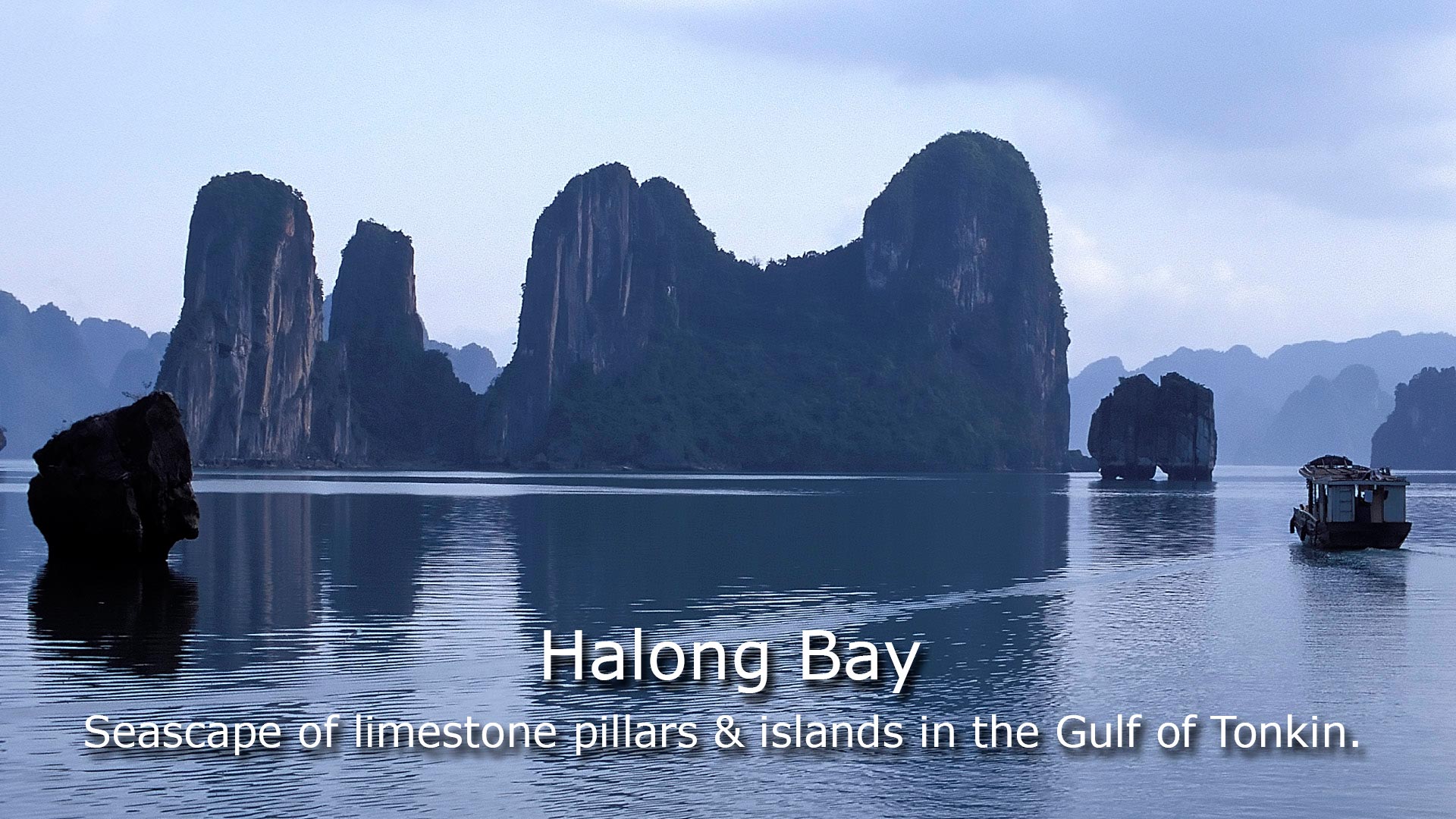 In the morning we may partake in Vovinam, a Vietnamese martial arts class, or simply relax and enjoy the sunrise over Ha Long Bay. After a light breakfast we tour Cat Ba World Biosphere, featuring Hoa Cuong Cave, a wonderful cave filled with stalagmites. We return to our cruise boat and enjoy a sumptuous buffet brunch before we return to the dock. Afterwards we return to Hanoi and visit the Imperial Citadel of Thang Long*. The Thang Long Imperial Citadel was built in the 11th century by the Ly Viet Dynasty, marking the independence of the Dai Viet. It was constructed on the remains of a Chinese fortress dating from the 7th century, on drained land reclaimed from the Red River Delta in Hanoi. It was the centre of regional political power for almost 13 centuries without interruption. The Imperial Citadel buildings and the remains in the 18 Hoang Dieu Archaeological Site reflect a unique South-East Asian culture specific to the lower Red River Valley, at the crossroads between influences coming from China in the north and the ancient Kingdom of Champa in the south. After our visit we check in to our hotel.
Notes: Cruise itineraries and schedules are subject to change without prior notice depending of the weather and operating conditions.
Overnight: La Siesta Hotel, Hanoi (1 night) (B)
Day 12: Hanoi/Ho Chi Minh City (Flight)
We are transferred to Hanoi airport for a morning flight to Ho Chi Minh City (Saigon). Upon arrival we are transferred to our hotel. In the afternoon we embark on a sightseeing tour of Ho Chi Minh City, visiting the Jade Emperor Pagoda, the Reunification Palace and the Central Post Office. We then take a short walk along Dong Khoi Street (former Rue Catinat) from Notre Dame Cathedral to the Municipal Theatre. We then drive through the bustling Cho Lon (Chinatown) and stop by a hand-embroidery workshop and the Ben Thanh Market on our way back to your hotel.

Overnight: Grand Hotel, Ho Chi Minh City (2 nights) (B)
Day 13: Ho Chi Minh City
We leave bustling Saigon behind, head out to Ben Tre province, famous for its coconut production and quiet, peaceful waterways in the Mekong Delta. Here we embark in a boat excursion through narrow canals surrounded by beautiful tropical scenery. We stop at a coconut processing family owned business and learn about the hundreds of uses of each single coconut. We then sail across the water to a brick making factory, where the locals still use centuries-old traditional methods to make the bricks by hand. Enjoy a lunch featuring Mekong specialties. After some time for relaxing or taking a walk around the lush garden settings,  we  will  learn how to make local cakes and might have a chance to talk with a local fortune-teller. After a day of memorable experiences, we return to Ho Chi Minh City. (B, L)
Day 14: Ho Chi Minh City/Cu Chi/Phnom Penh (Drive) (CAMBODIA)
In the morning we drive to Cu Chi, an area renowned for its elaborate network of over 200 km underground tunnels dug by hand by the Vietcong during the Vietnam War. We may crawl down a tunnel to get a feeling of life underground during the war. Then we are driven to the Moc Bai border check point and cross the border to Cambodia and head to Phnom Penh. Travel time, including customs and immigration procedures at the border check points is about 5 hours. Upon arrival in Cambodia's capital we are transferred to our hotel.

Overnight: Sunway Hotel, Phnom Penh (1 night) (B)
Day 15: Phnom Penh/Siem Reap (Flight)
Morning we explore Phnom Penh, including the notorious Tuol Sleng Museum the largest Khmer Rouge detention and torture centre, the Central Market of Phnom Penh and the Victory Monument. We will explore the National Museum, featuring an art collection from different periods of Khmer history, followed by a visit to the Royal Palace, where we will see the Silver Pagoda, famous for its 5,000 silver floor tiles and a solid gold Buddha statue encrusted with 9,584 diamonds. We conclude our visit at the Wat Phnom Temple and are transferred to Phnom Penh Airport for an evening flight to Siem Reap. Upon arrival in Siem Reap airport we are transferred to our hotel.

Overnight: Tara Angkor Hotel, Siem Reap (2 nights) (B)
Day 16: Siem Reap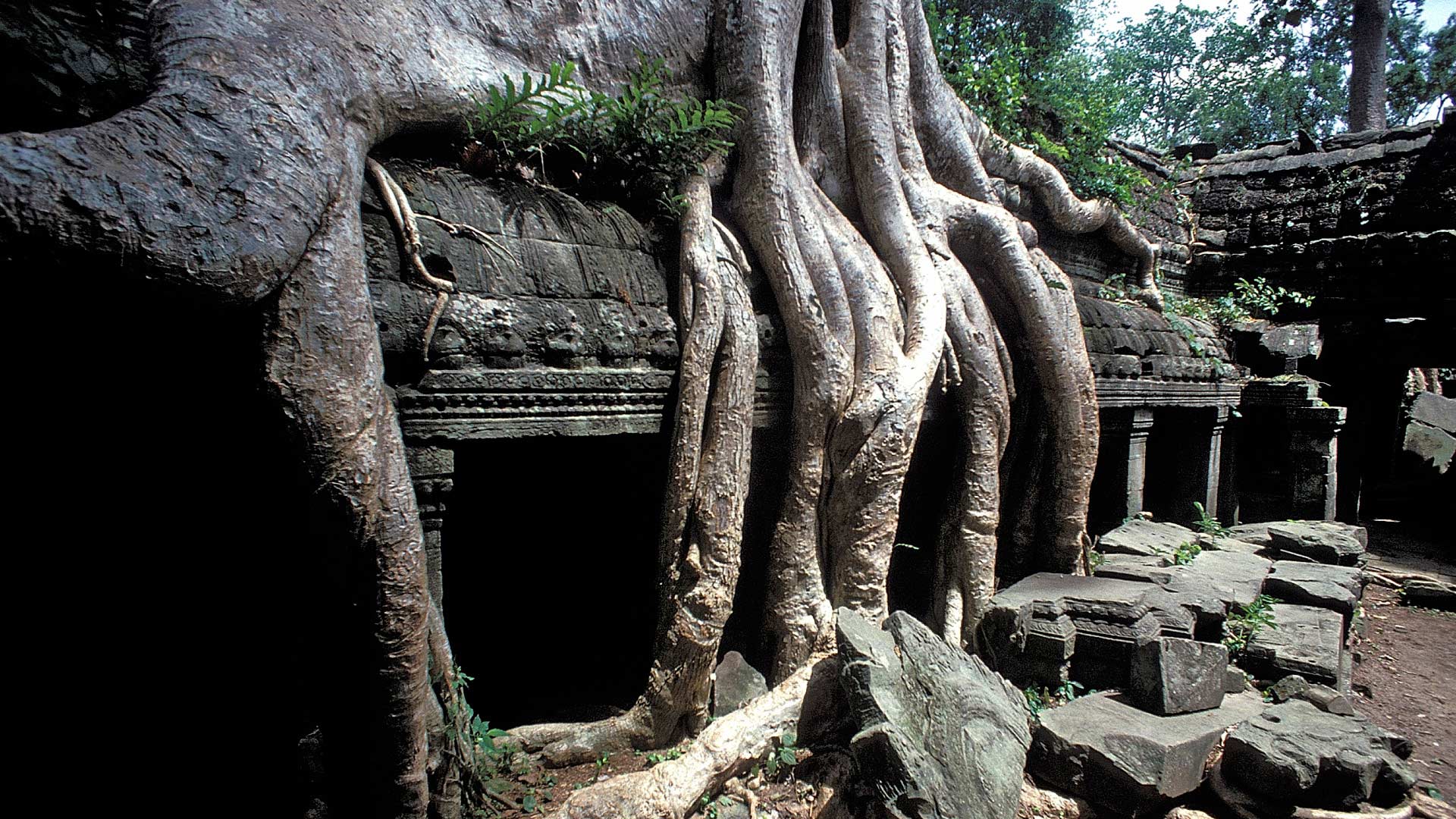 Today we enjoy a full day tour exploring the temple city of Angkor*. Angkor is one of the most important archaeological sites in South-East Asia. Stretching over an area of some 400 km², including forested areas, the Angkor Archaeological Park contains the magnificent remains of the different capitals of the Khmer Empire, from the 9th to the 15th centuries. We will visit the famous Temple of Angkor Wat, Angkor Thom, featuring the Bayon Temple with its countless sculptural decorations, the Elephant Terrace and the Leper King Terrace.  We will also visit Ta Prohm, which is covered by the surrounding jungle. We then walk up to the top of Phnom Bakheng Hill to enjoy a panoramic view of the western Baray and Angkor Wat at sunset. In the evening we enjoy a buffet dinner accompanied by a Khmer dance performance. (B, D)
Day 17: Depart Siem Reap
Check out time is by 11:00 AM.  We are transferred to the airport for our departure flight.
Angkor Wat is a site that to many, needs another visit. This tour has been designed in such a manner that this can be easily incorporated and one can add one or more days as an optional activity. You may have more guided sightseeing or just enjoy the site to yourself. If you are interested in this extension please do ask us for details. (B)
B=Breakfast, L=Lunch, D=Dinner