Day 01: Arrive Surakarta
Upon arrival at Surakarta in Central Java, Indonesia, we are warmly and traditionally welcomed and then transferred to our hotel. Surakarta is often referred to as Solo and its airport is serviced by almost daily flights from Kuala Lumpur, and Singapore besides multiple flights in the day from other Indonesian cities including Denpasar (Bali) and Jakarta.
Overnight: The Royal Surakarta Heritage Hotel, Surakarta (3 nights)
Day 02: Surakarta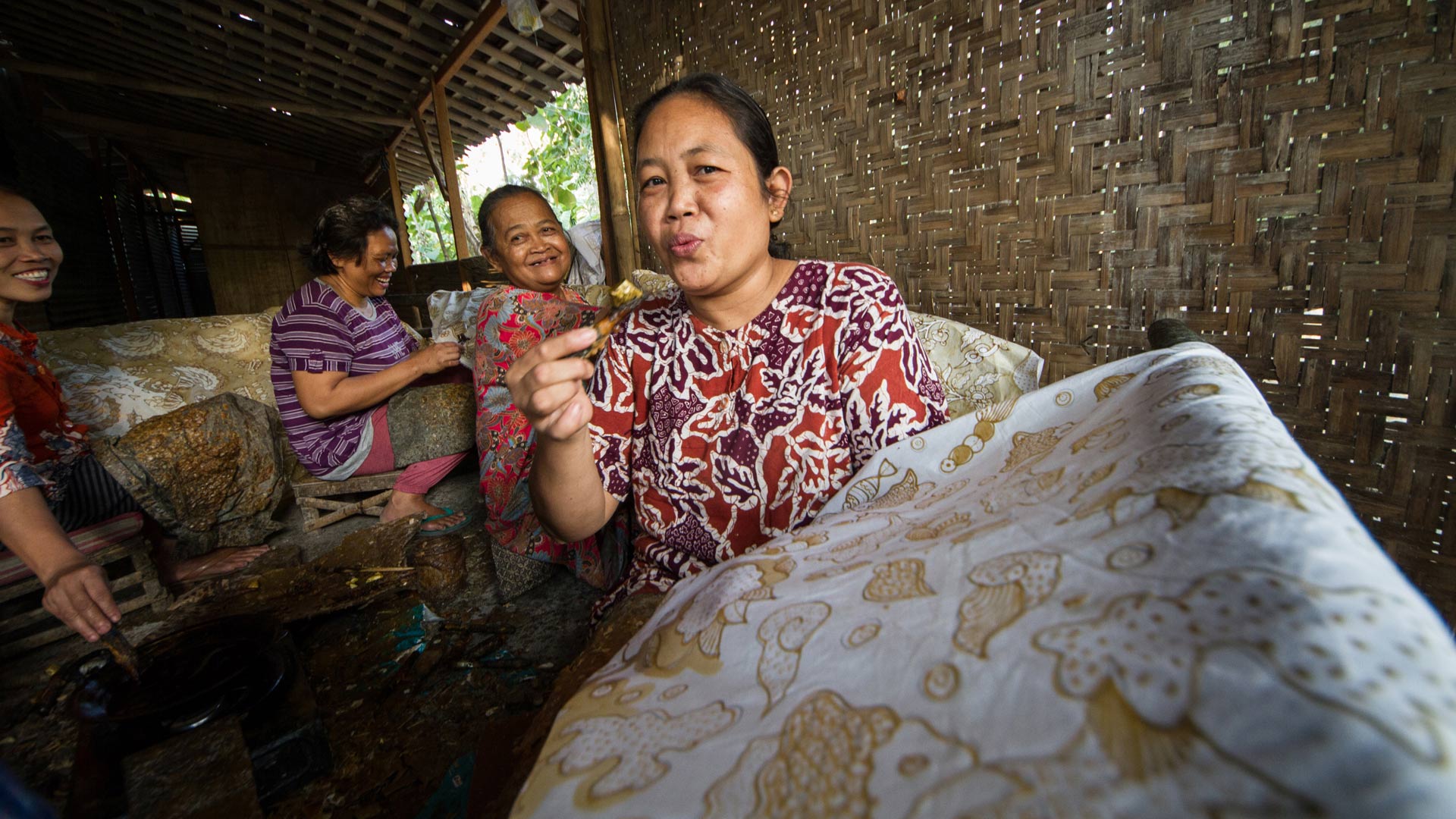 We start with a visit to the Kraton, the Palace of the Pakubuwono Kings, built in 1675 combining Javanese and classical European styles. Enroute we visit Windujenar antiques market looking for curiosities. Solo is known for its Batik - Indonesia's national fabric. Batik making in Java is an ancient tradition that has been passed down through generations. Batik is a cloth that is traditionally made using a manual wax-resist dyeing techniques and has notable meanings rooted to the Javanese conceptualization of the universe. Certain patterns can only be worn by nobility; traditionally, wider stripes or wavy lines of greater width indicated higher rank. Consequently, during Javanese ceremonies, one could determine the royal lineage of a person by the cloth one is wearing. In 2009, UNESCO designated the Indonesian Batik as a "Masterpiece of Oral and Intangible Heritage of Humanity". We visit the Museum Batik Danar Hadi, which houses Indonesia's largest collection of batik and has a workshop where we see the process of traditional batik making from start to finish. Afternoon we are free to explore the main centres of production for Batik, with renowned areas such as Kampung Kauman or Laweyan and visit workshops where we see the process of traditional batik making from start to finish. (B, L)
Day 03: Surakarta/Sangiran/Ceto/Sukuh/Surakarta
Today we visit the Sangiran Early Man Site, a WHS and an archeological treasure trove of fossils and remnants from the prehistoric era. The most important discovery however was the skeleton of the Java Man (Pithecanthropus erectus) an important predecessor of the modern human. We visit the world-class museum, which contains many fossils of Meganthropus palaeo and Pithecanthropus erectus/Homo erectus. After lunch we head to the western slope of Mount Lawu and visit the 15th-century Javanese-Hindu temples of Candi Ceto and Candi Sukuh, which looks surprisingly like a Mayan pyramid. By this time, Javanese religion and art had diverged from Indian precepts that had been so influential on temples styles during the 8-10th century. This area was the last significant area of temple building in Java before the island's courts were converted to Islam in the 16th century. (B, L)
Day 04: Surakarta/Borobudur/Yogyakarta (Drive)
Drive to Yogyakarta visit the famous and majestic Borobudur Temple, a WHS. Built between AD 750 and 850 using forced labor from the surrounding countryside, Borobudur predates Angkor Wat in Cambodia by three centuries. Though a Buddhist creation, it incorporates Persian, Babylonian and Greek influences. The walls and balustrades are decorated with fine low reliefs, covering a total surface area of 2,500 square metres. Around the circular platforms are 72 openwork stupas, each containing a statue of Buddha. We also visit the nearby villages where the art of stone masonry is still being done in much the same manner as the peasants who built this astonishing monument. Continue to Borobodur. Join an optional Wayang kulit performance, the famous shadow puppet theatre of Java that also recognized as a Masterpiece of Oral and Intangible Heritage of Humanity. The puppets relate stories usually drawn from Hindu epics, like the Ramayana or Mahabharata.
Overnight: Yogyakarta Plaza Hotel, Yogyakarta (2 nights) (B, L)
Day 05: Yogyakarta
We star our tour with a visit of the Kraton Yogyakarta. We then continue to Taman Sari, also known by the Dutch name waterkasteel (water castle). It was built as a pleasure garden by the first Sultan in 1765. One of the bathing pools was dedicated to the sultan's harem, and he had a tower overlooking the area so he could take his pick. Afternoon we visit the WHS Prambanan Temple Compounds. The 240 Hindu temples are decorated with reliefs illustrating the Indonesian version of the Ramayana epic which are masterpieces of stone carvings dating to the 8th century AD in Java. We also visited the neighbouring Buddhist ensemble at Sewu, which comprises a central temple surrounded by a multitude of minor temples. Evening we are treated to a sumptuous buffet dinner followed by a Ramayana Ballet performance, presented in a series of dance movements done by beautiful dancers accompanied by gamelan music. (B, L, D)
Day 06: Yogyakarta/Bali (Flight)/Ubud (Drive)
A short flight takes us to Bali. A line of volcanoes dominate the landscape of Bali and have provided it with fertile soil which, combined with a wet tropical climate, make it an ideal place for crop cultivation. Water from the rivers has been channeled into canals to irrigate the land, allowing the cultivation of rice on both flat land and mountain terraces. Upon arrival we are transferred to Ubud, Bali's artistic heart and have time on our own to explore the many crafts centres in the area.
Overnight: Agung Raka Resort, Ubud (4 nights) (B)

Day 07: Ubud/Mengwi/Kedaton/Ubud
We start the day with a visit to Batubulan village to see the famous Barong and Keris dance performances. This is followed by a visit to Goa Gajah (Elephant Cave), a Hindu meditation center dating back to the 11th Century. We continue to Mengwi to visit the 18th-century Royal Water Temple of Pura Taman Ayun, which is part of the Cultural Landscape of Bali Province: the Subak System as a manifestation of the Tri Hita Karana Philosophy – another WHS. The temple is the largest and most impressive architectural edifice of its type on the island. Our tour ends at Kedaton, the Monkey Forest. Balance of the day is free to explore Ubud's many museums. (B, L)
Day 08: Ubud/Kintamani/Besakih/Ubud
Today we head to Tampak Siring to visit the holy spring water temple of Tirta Empul. Next we head to Kintamani, where we enjoy the amazing panoramic views of Lake Batur, Mt. Batur and Mr. Agung, Throughout our tour we see rice terraces that run through subak, the cooperative social system that controls the water, which has shaped the landscape over the past thousand years and is an integral part of religious life. Water from springs and canals flow through the temples and out onto the rice paddy fields. Water temples are the focus of a cooperative management of water resource by a group of subaks. Since the 11th century the water temple networks have managed the ecology of rice terraces at the scale of whole watersheds. Afternoon we proceed to Besakih Temple, the largest holiest site in Bali and home to the island's Mother Temple, located at the slope of Mount Agung. The temple is comprised of 3 main complexes dedicated to the Hindu Trinity. It was built during the late 8th century AD. (B, L)
Day 09: Ubud/Tanah Lot/Ubud
Today we visit Pura Ulun Danu Bratan, a magnificent lakeshore temple, followed by a visit to the magnificent Eka Karya Botanic Garden that features 2,000 species of plants and 20,000 plant specimens ranging including orchids, roses, palms, ferns, bamboos and medicinal plants. After lunch at a local restaurant we continue to Tanah Lot, a temple that sits on a large offshore rock which has been shaped continuously over the years by the ocean tides of the Indian Ocean to enjoy magnificent views of the sunset. (B, L)
Day 10: Depart Ubud
Our Tour of The World Heritage Sites in Indonesia comes to an end. You are transferred to the Denpasar International airport for your flight out. (B)
B=Breakfast, L=Lunch, D=Dinner
Departure Dates
English Speaking Departures (Please contact us for information on French, German, Italian and Spanish speaking departures).
2020/2021

Daily Departures
Tour Price
We accept payments in US$, CA$ as well as in other convertible currencies like EUR, AUD and GBP. Tour prices have been costed in US$. CA$ price shown below is an indicative amount reached at by using the conversion rate at the time of web posting and will be applicable if there is no change in the conversion rate. Should the currency conversion rate change, the US$ pricing will prevail. Bestway Tours & Safaris offers a conversion rate protection. Once full payment has been received and no modification has been made to the tour itinerary, we will honour that rate. For complete payment procedures, please
click here
Departure(s)
Per Person on Twin Sharing
Single Room Supplement
2020

From

US$ 1995 • CA$ 2853

From

US$ 595 • CA$ 851
2021

From

US$ 2095 • CA$ 2996

From

US$ 625 • CA$ 894
Notes
March 25, 2020 & March 14, 2021 is Nyepi Day (Bali's Day of Silence), which means:
The silence begins sunrise around 6:00 am of March 25, 2020 & March 14, 2021 and will go on until the next 24 hours.
All shops are closed.
Guests have to stay inside the hotels/resorts area.
When listening to music or watching in your hotel rooms, kindly keep the sound at minimum level.
There will be no traffic in the whole Bali island.
Ngurah Rai airport will be closed on March 25, 2020 & March 14, 2021, so there will be neither arrival nor departure in the airport on that day.
Across Bali, the activities are allowed only in emergency rooms and maternity section of hospitals. Any emergencies are taken into consideration and tolerated. The whole island is in silence.
Inclusions
Tour Price Includes
Accommodation as mentioned or similar, including hotel taxes
17 meals as mentioned (B=Breakfast, L=Lunch, D=Dinner)
All sightseeing and transfers by private transportation
Services of local English speaking guides
Entrance fees to museums and sites included in the itinerary
Dance performances as mentioned
Not Included
Any airfares (within tour itinerary Yogyakarta/Bali approx US$ 120)
Insurance/visas
Tips/gratuities
Estimated International Airfare
(International airfare is NOT included in this tour)
CANADA(West Coast)
US$ 1300

USA(West Coast)
US$ 1200
CANADA(East Coast)
US$ 1300

USA(East Coast)
US$ 1200
Participants
This tour operates on a minimum of 02 and a maximum of 08 participants
Customised Itinerary
If you would like to have a tour on dates other than the above ones or with a customised itinerary, please contact us and we will be happy to work out an exclusive program for you.
Contact Info
You may e-mail us at bestway@bestway.com or call 1-604-264-7378. Residents of U.S.A./Canada may call us toll free at 1-800-663-0844.