A few years back, I received this very interesting letter from the famous Beatles photographer and two-time Emmy award-winning filmmaker, Paul Saltzman. It recollects a moving experience that he had in India, as a young man. I feel it deserves to be shared. Here are some excerpts:
INDIA – my first visit………
When I was 23, I was working on a documentary film in India with the National Film Board of Canada. On the last day of the film shoot, I was wondering what next for me in India… only to receive a letter the next day from my girlfriend telling me she had moved in with someone else. I was devastated; heartbroken, and quite alone.
An acquaintance that I had just made suggested, "Why don't you try meditation for the heartbreak?
The next day, I travel north by train from Delhi, into the foothills of the Himalayas. My destination was the ashram in Rishikesh belonging to Maharshi Mahesh Yogi. The Maharashi was known to teach people a simple but effective form of mantra-based meditation designed to bring one to a place of inner serenity, which I certainly needed. When I arrived I was informed that the ashram was closed to visitors. I camped outside the main gate in the hope of being admitted, soon. Fortunately, for the following 8 days one of the ashram's staff sent me daily servings of vegetarian food.
On that 8th morning, the mist rising from the Ganges River below, Ragvendra, one of the Mahrishi's main instructors, invited me into the ashram. We went to a small meditation room and within 5 minutes he had given me a mantra and taught me how to use it. After one 30-minute meditation the agony was over. I was still longing for my girlfriend, but the pain in my heart was gone. For me it was a miracle. A deep healing.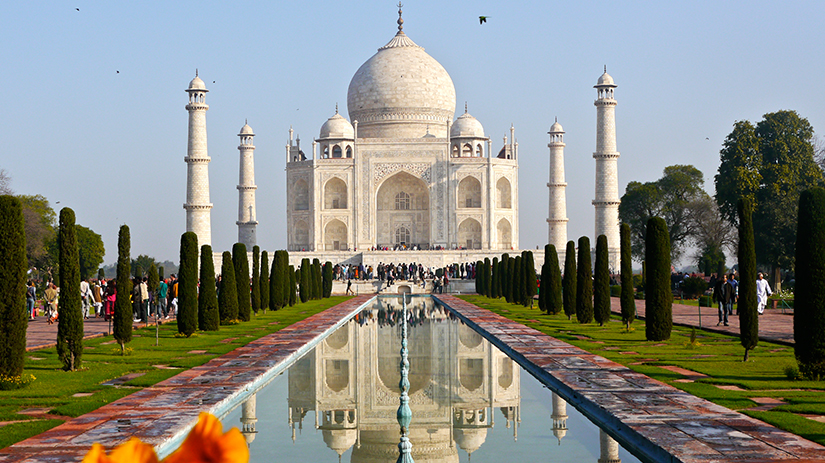 I walk out of the meditation room into the ashram, feeling elated at not being in heartbreak. As I walked I saw a group of people sitting at a long table by the edge of the cliff overlooking the Ganges, 150 feet below. As I walk over I realized they were the four most famous and sought after people on earth—the Beatles! John, Paul, George and Ringo, along with several other celebrities.
John looked up at me and I said, "May I join you?" He warmly said, "Sure, mate, pull up a chair." There followed a most fascinating and enlightening week as I spent time with them. It was 1968, and the Beatles time in India was probably the greatest encounter between the music and philosophies of the east and the west that I had heard of—all taking place in the ashram at Rishikesh. It was also their most creative capsule of time in their time together—they wrote 48 songs in less than 7 weeks.
John, Paul, George and Ringo were remarkably down to earth and without any 'star' ego. I had many one-to-one conversations with them, leading me to write two books on my time at the ashram. I hung-out with them, their wives and the other participants including actresses Mia Farrow and Jane Asher, singers Donovan and Mike Love. More importantly, my life changed from that time forward: my perceptions and understanding of life and love grew even more, and these benefits have continued to expand with every subsequent visit to India. I have now been there over 50 times and each journey to India has been an exciting and fulfilling adventure.
Paul Saltzman
Was the breakup with his girl friend set up for meeting the Maharshi and/or the Beatles? Was all this an accident or it was ordained? Be what it may, it made a big change in the life of Paul and we felt it was worth sharing. Paul is now an accomplished movie director, a two-time Emmy award winner, writer, photographer and above all a great individual. He delights in sharing his love of India with others. His preference is in small groups and one-to-one meets, talking of life in the smaller and the bigger pictures, in sharing experiences. He is a wonderful listener. His ongoing love for India has led him to do film documentaries on different aspects of life in India. He has met Pandit Hariprasad Chaurasia, an icon of Indian flute music; filmmakers like Satyajit Ray, Mrinal Sen, James Ivory and worked with actors like Morgan Freeman
To share his enthusiasm for India, that also of the time with the Beatles and more, Paul has put together a personally tailored tour rightly called: India with Paul Saltzman. Next year, October 18, 2015, Paul will be sharing his experiences with a small group of travelers on a 17-days journey of India ending with an optional moderate trek from Rishikish into the "foothills" of the Himalayas. It is an experience of India with Paul – one that will fascinate both the first time traveler to India as well as the repeat one.
Yours in exploring

Posted by Mahmood Poonja, Chief Explorer


Related News - Join Paul on 17-Day inspirational journey to India