Start Running to Eat or to Be Eaten
Every morning in Africa a gazelle wakes up. It knows that it must run faster than the fastest lion or it will be killed. Every morning a lion wakes up. It knows it must outrun the slowest gazelle or it will starve to death.
It doesn't matter whether you are a lion or a gazelle. When the sun comes up, you better start running. - an African proverb.
In the jungles of Africa, this is an everyday fact of life. Whether this is only an occurrence in the green jungles of Africa or also in the cemented jungle we live, is a topic for another discussion.
I recollect from my first game experience in my home country, Tanzania. I can still see the chase that we did. Here is the story.... our experienced wolf eared guide traced a lioness chasing a zebra. We joined the chase on our 4x4's and after some chasing the lioness took the "last" leap grabbing the zebra by the neck. Struggle continued and eventually the zebra was brought down, however still struggling. After s few minutes there was no movement, no breath by the zebra. The lioness, after making sure that the zebra was completely still, looked around to make sure that no other predators were prying to take her trophy away. Then came the lion followed by their cubs. The lioness moves back to allow the family to feast first whilst she guarded them. When they were done, it was her turn to eat the remaining whilst her lion played vigilance and the well-fed cubs were busy playing. Truly a family event! - making me think - is the lion the "king" (of the Jungle) or merely the mate of the "Queen".
This incident made me realize that we could only view this chase because we were at the right place at the right time. More importantly, having the sharp safari guide, being on a small and a safari 4x4 vehicle (against larger coaches which carry more people but are slow and make a lot of noise making the animals run away) - all this played their vital role.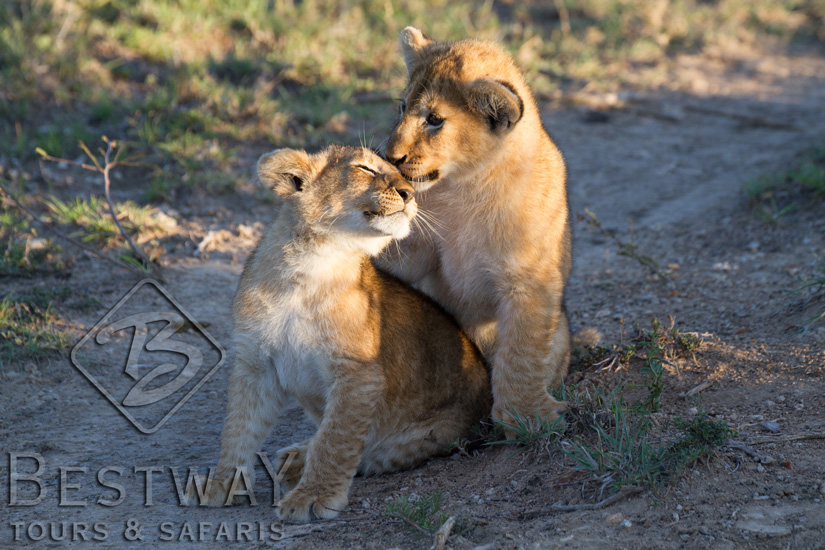 To put together a successful wild game safari is an art. It is a product of several years learning with the know ledge of the current local conditions (weather, terrain, road conditions, animal movements). Then to add to all this, are the facts that the guide/driver has to be a local knowing the animal cultures and being enthusiastic and knowledgeable. He has to be aided with the right type of vehicles and having the liberty to put in additional few hundred kilometers a day to go on a chase without being questioned. This is how the lioness won - well equipped, experienced & free.
Africa is home to us. See and experience Africa as it should be.
Karibu and Jambo from your Bestway team!

Posted by Mahmood Poonja, Chief Explorer