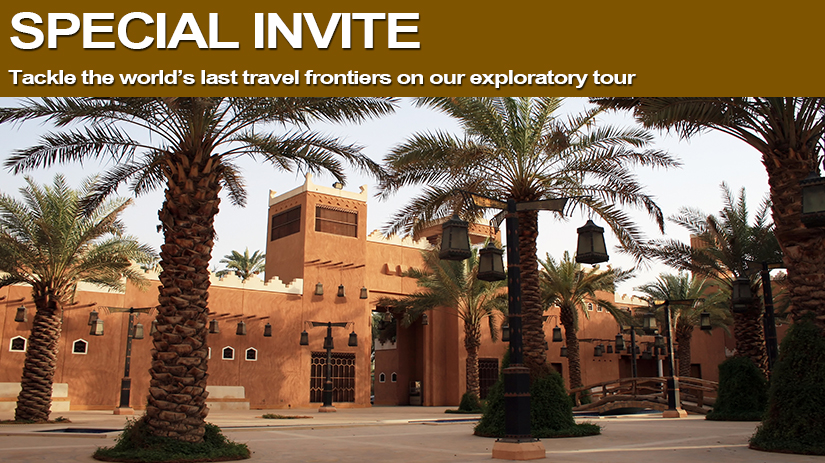 Special Invite – Tackle the world's last travel frontiers on our exploratory tour
Since Bestway Tours & Safaris inception in 1978, one of our main missions has been to help travellers learn about and experience the world's cultures. Our mantra, "journeys sans frontiers", represents our view that cultural exploration shouldn't be limited by borders, logistics or politics.
In the past 40 years, we've conquered many destinations seen as challenging, or at that point in time, impossible. In fact, many of our regularly scheduled tours started off as exploratory journeys.
Feb 5, 2018 is yet another milestone as we venture back into a country which has been closed to tourists for many years. Our newest tour will visit a nation that we hear almost daily, yet still very little is known about. A kingdom that is amongst the richest in the world and has a heritage even more richer. Yet most people don't even know the name of its capital city.
Our destination is KSA – Kingdom of Saudi Arabia – and our exploratory tour has rightfully been called, Saudi Arabia: Behind the Veil
We would like to extend an invite to you, our intrepid Bestway travellers, to join us on this thrilling tour and experience for yourself the mystery it is shrouded with. A soft announcement of this tour has had an over whelming good response and the Feb 5, 2018 tour is now left with only 4 spots available. Click here to learn more.

For those of you with your eyes on other countries, read on for a selection of Bestway's most exciting tours that tackle new travel frontiers and themes.

استكشافات سعيدة
(Happy explorations)
Bestway Tours & Safaris is happy to help with your small group and customized travel needs. Connect with us at bestway@bestway.com.

Posted by Mahmood Poonja, Chief Explorer