DISCOVER KERALA WITH CHEF JOE THOTTUNGAL
Cultural tour of India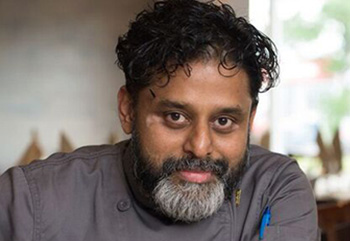 Joe Thottungal, Executive Chef and Owner of the Coconut Lagoon Restaurant in Ottawa, leads for the second time, a small group of    gourmands on an exciting 15-day journey to Kerala, his home state in South India. The itinerary focuses on the unique culture and cuisine of Kerala with Chef Joe explaining the intricacies of local delicacies and cooking technics. The group is encouraged to participate during live demonstrations and there are plenty of opportunities for hands on cooking along with the master chefs! This itinerary is tailored to be interactive with the local people at every stop along the way as we explore local fruit, vegetable and spice markets, walk along the beach and haggle with the fishmongers for the fresh catch of the day while they empty their nets, visit local homes-including that of Joe's parents at Thrissur and taste his mother's cooking.


As we travel through God's Own Country, as Kerala is called, we will scout tigers at the world famous Periyar Wildlife Sanctuary, go bargain hunting at local bazaars, relax on a deluxe houseboat while cruising overnight on the Backwaters of Kerala and taste various street foods supervised by Joe before ending the tour at the beautiful Marari beach resort, widely recognized for its Spa and Ayurvedic treatments. Our tour to Kerala with Joe will undoubtedly be an unforgettable experience, where we came as visitors we will leave as honored guests and dear friends returning home with memories to last a life time along with Chef Joe's secret recipes!

This escorted tour includes visits to bustling markets, cooking classes, meals with local families, cultural shows as well as comprehensive sightseeing.