Day 01: Arrive Johannesburg (SOUTH AFRICA)
Upon arrival in Johannesburg, we are met and transferred to our hotel. Johannesburg is the largest city in South Africa. It is known as the source for South Africa's gold and diamond trade, due to its location on the mineral-rich Witwatersrand range of hills. The remainder of the day is at leisure and unescorted. Possibility here to experience an afternoon tour of Soweto, the suburb that captures the history of South Africa's struggle for equality – please see our "Prices & Dates" section for details. Or, simply relax and recover from jetlag. At 19h00, we will meet up at reception for a briefing on the tour and a chance to meet fellow travellers.

Overnight: Protea Hotel Balalaika, Johannesburg (1 night)

Day 02: Johannesburg/Mpumalanga (Drive)
Depart Johannesburg after breakfast as we make our way to Pretoria, South Africa's capital city, for a short orientation tour. Afterwards, we continue our journey to the Mpumalanga Province, known as "Paradise Country". Making our way into the lush subtropical region of the Lowveld, we travel via the historic towns of Dullstroom and Lydenburg. After traversing the famous Long Tom Pass, stopping to take in the spectacular view (weather permitting), we arrive late afternoon in Hazyview, the safari hub of Kruger National Park.

Overnight: Perry's Bridge Hollow Boutique Hotel (2023) / Hazyview Sun Hotel (2024), Mpumalanga (3 nights) 2023: (B) 2024: (B, D)

Day 03: Mpumalanga
After an early morning breakfast, we drive along the spectacular Panorama Route. The jawdropping scenery along this road includes the shockingly green Blyde River Canyon, one of the largest canyons on earth, Bourke's Luck Potholes and historic God's Window, which offers a breathtaking view (weather permitting) of Kruger National Park's escarpment. We arrive back in Hazyview in the early afternoon, where the remainder of the day is at leisure to relax. Consider joining (at own account – see "Prices & Dates" section for details) a Shangaan Cultural Dinner experience, for an African dinner feast and an evening of traditional Shangaan storytelling and entertainment. 2023: (B) 2024: (B, D)
Day 04: Mpumalanga
The day begins with early morning coffee or tea, followed by a thrilling open vehicle safari (with English speaking game ranger) with pre-packed breakfast through Kruger National Park, a highlight of African safari trips. Kruger is one of the world's greatest national parks, home to a stunning array of wildlife. Search for the Big Five (rhino, buffalo, lion, leopard, and elephant) as well as prolific bird life and numerous other game. We will also learn about the Anti-Poaching Dog Unit established to fight against the very real problem of rhino poaching here. A portion of our safari price goes towards this important program. An afternoon game drive is available as an extension to the morning game drive (please see our "Prices & Dates" section for details). Otherwise, the afternoon is at leisure at our hotel. 2023: (B) 2024: (B, D)
Day 05: Mpumalanga/Ezulwini Valley (ESWATINI) (Drive)
This morning, we travel to eSwatini (Swaziland), known for its beautiful scenery, crafts and colourful indigenous culture. An interactive cultural experience complete with dance and song introduces us to the charming people of eSwatini and their traditions, and allows us to sample traditional cuisine for lunch! We travel via the capital city, Mbabane, on to the beautiful Ezulwini Valley.

Overnight: The Royal Villas, eSwatini (1 night) (B, L, D)

Day 06: Eswatini/Hluhluwe-Umfolozi region (ZULULAND) (Drive)
After breakfast, we will continue south through eSwatini, before re-entering South Africa. Travel into Zululand, passing traditional round huts and endless vistas. There is an option to enjoy an afternoon open vehicle safari with English speaking game ranger (please see our "Prices & Dates" section) in the Hluhluwe-Umfolozi Game Reserve. Experience the beautiful rolling green hills in the afternoon light with opportunities to spot the Big Five. This game park is a stronghold for rhinos, and chances of seeing them are good. Overnight in Hluhluwe-Umfolozi region.

Overnight: Anew Hotel Hluhluwe, Zululand (1 night) (B)

Day 07: Hluhluwe-Umfolozi region/Durban (Umhlanga) (SOUTH AFRICA) (Drive)
This morning, we join a cruise on Lake St Lucia (weather permitting), where we'll have the chance to observe hippos and other aquatic creatures against a beautiful river backdrop, before departing for Durban. Our journey takes us past traditional Zulu Kraals, Eucalyptus plantations and sugar cane fields. We arrive early afternoon with the balance of the day at leisure to enjoy the golden beaches of the Indian Ocean.

Overnight: Protea Hotel Umhlanga, Durban (1 night) (B)

Day 08: Durban (Umhlanga)/Port Elizabeth (Flight)/Knysna (Drive)
After breakfast, transfer to Durban (Umhlanga) airport for the short southward flight to Port Elizabeth, where we will be met by our representative (at own account, please find booking details in our "Notes" section). Once everyone has arrived, we set off to explore the magnificent beauty of the indigenous Tsitsikamma Forest. Our hotel is in Knysna, known as the oyster box of South Africa, nestling on the banks of a beautiful lagoon in the heart of the Garden Route.

Overnight: Rex Hotel, Knysna (2 nights) 2023: (B, D) 2024: (B)

Day 09: Knysna
After a leisurely breakfast, visit the spectacular Tsitsikamma National Park, Storms River Mouth (weather permitting) and the magical Knysna Forests, the stamping ground of the elusive Knysna elephants. Discover the stories of the woodcutters who worked the forests, the elephants that were hunted to extinction and the discovery of gold. Our expedition into the forest starts with a visit to the Dalene Matthee Big Tree Memorial. The enormous Yellowwood tree which is over 880 years old was named after Matthee, best known author of four books on the Knysna Forest. Enjoy a delicious lunch in the forest of traditional cuisine and local treats at Totties Farm Kitchen. Overnight in Knysna with dinner at Drydock Restaurant, renowned for dishes with glorious aromas and flavours, using the finest local ingredients and freshly picked herbs from the region. 2023: (B, L) 2024: (B, L, D)
Day 10: Knysna/Oudtshoorn (Drive)
Travel through the Outeniqua Pass to Oudtshoorn, known as the "ostrich capital" and the centre of the world's ostrich farming industry.  En route, we visit the Map of Africa (2023) or Dolphin Point (2024), both extraordinary viewpoints in Wilderness. In Oudtshoorn, experience a working Ostrich Farm with a guided tour and light lunch of local specialties, such as Ostrich steak. Then, take a tour of the spectacular limestone caverns of the Cango Caves, one of the world's great natural wonders, sculpted by nature through the ages. We arrive at our hotel in the late afternoon, with the balance of the day free.

Overnight: Hlangana Lodge, Oudtshoorn (1 night) (B, L)
Day 11: Oudtshoorn/Franschhoek (Drive)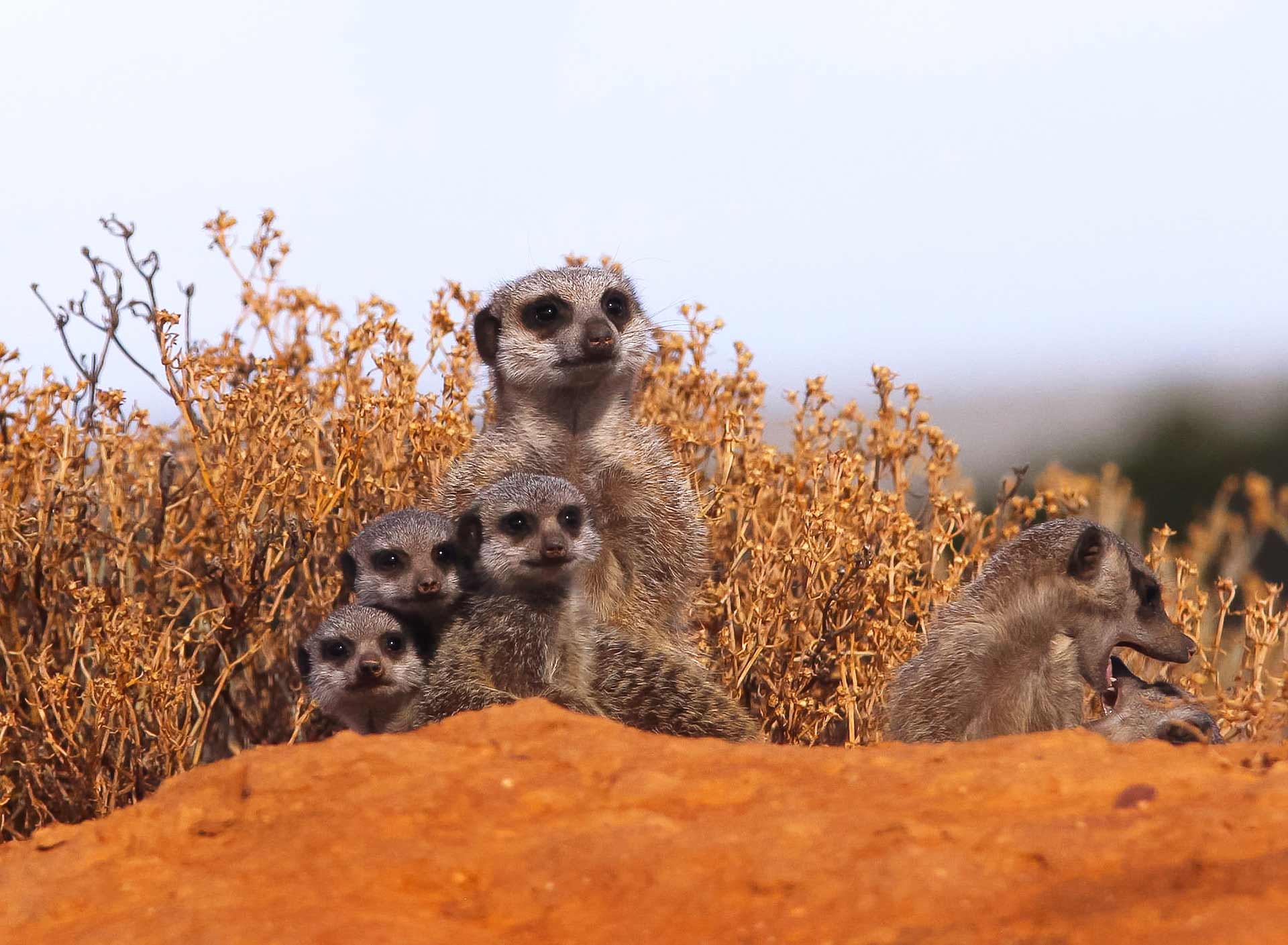 This morning, we have the exciting option to join a Meerkat safari (subject to availability – see our "Prices & Dates" section for details), where we can see these fascinating wild creatures pop out from their burrows, bask in the sun, and hunt for their morning meal (weather permitting). We then head back for a delicious breakfast. Our journey continues through the 'Little Karoo' to Barrydale, where we will have the unique opportunity to visit a local farm school, interact with the children and teachers here, and spend time learning about local farming activities (subject to school being open). A portion of the cost of this trip will go toward the Barrydale Farm School Fund, which supports education of underprivileged kids in rural communities. Afterwards, we travel on to Montagu, a picturesque and historic spa town, before continuing to Franschhoek, where we will spend the night. French Huguenots settled in this picturesque village more than 300 years ago, bringing with them their age-old French wine and food culture. The area is now surrounded by spectacular vineyards.

Overnight: Protea Hotel Franschhoek, Franschhoek (1 night) (B)

Day 12: Franschhoek/Cape Town (Drive)
After a leisurely breakfast, our expert guide will take us through the picturesque Winelands of Paarl and Stellenbosch, surrounded by awe inspiring scenery. With extraordinary wine estates and fascinating historical landmarks to explore, our knowledgeable guide will create a memorable Winelands experience for us. Enjoy two wine tastings and a cellar tour before continuing to Cape Town. Savour a fun-filled evening with interactive entertainment and delectable food at Gold Restaurant.

Overnight: President Hotel, Cape Town (2 nights) (B, D)

Day 13: Cape Town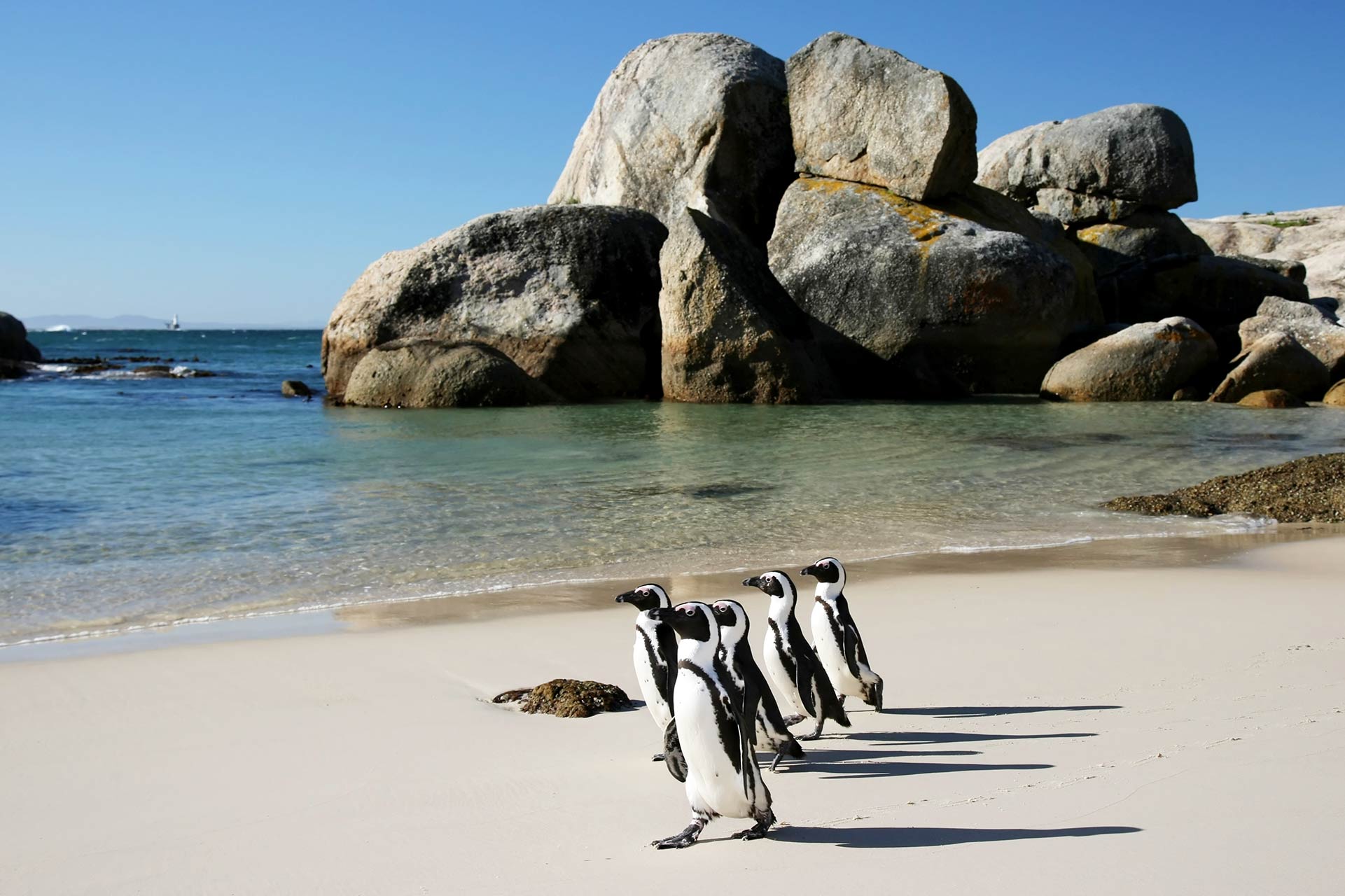 Enjoy a full day tour of the Cape Peninsula, offering some of the most spectacular coastal scenery in the world. Drive through Sea Point, the seaside village of Hout Bay (where we can enjoy an optional and for own account seal island boat cruise) and then on to Cape Point where (by tradition) it is said that the Atlantic and Indian Oceans meet. We'll return to Cape Town by way of Simon's Town, where we visit the penguin colony at Boulders Beach (entrance fee for own account) and Fish Hoek fishing village. (B)

Day 14: Depart Cape Town
Enjoy some last minute shopping (unescorted) or sightseeing (for own account). The Robben Island Tour (for own account and time permitting), which departs from the Victoria & Alfred Waterfront, offers a fascinating excursion. Later we are transferred to the airport for our return flight. A great opportunity here to extend our adventure with additional nights in Cape Town, or to other parts of Africa. Cape Town offers regular direct flights to Victoria Falls, Namibia and Kenya. (B)
B=Breakfast, L=Lunch, D=Dinner