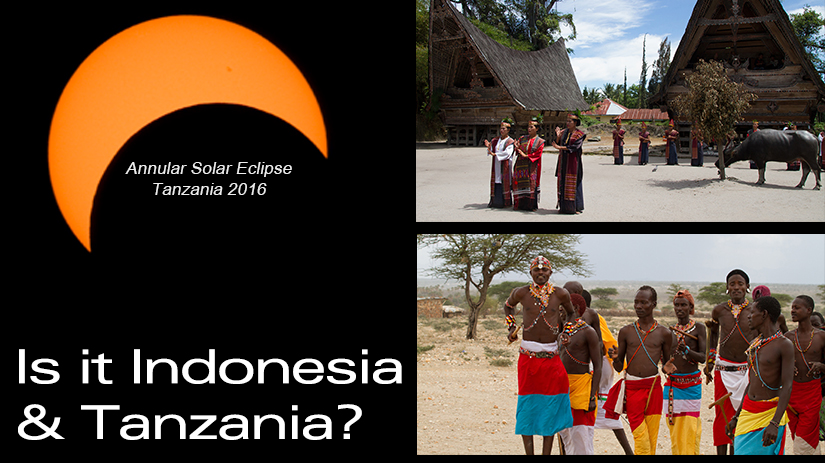 Is it Indonesia & Tanzania?
Date: March 09, 2006. Location: Jalu, an oasis in the middle of the Libyan Desert. Local time: 12:30pm. Duration: 4 minutes and 3 seconds. Topography: An almost cloudless desert sky, no trees or any human built obstructions between the desert sand and the sky. Attendees: A few hundred people, mostly foreigners from various countries, our local tour guides, drivers, cooks, campsite staff and members of the Libyan Boy Scouts in their smart uniforms. Event: All eyes were glued to the sky. In almost complete silence for the entire duration of the eclipse we were all focused on viewing a spectacular total solar eclipse in action. At the culmination there was jubilation for all - Libyans and non-Libyans alike. The Boy Scouts started dancing and most of us joined them getting a wonderful feeling of a commonality of cultures of different parts of our globe coming together.
As a first time eclipse viewer, this was an extraordinary experience - one to remember for all times to come. It was not only the eclipse viewing and the jubilance thereafter, but also in meeting people with a passion that very few know about. That people will travel thousands of miles to get a glimpse - a few minutes at best - of nature working with the solar system, was admirable.

At that time in In Libya, we at Bestway Tours & Safaris were handling three independent tour groups totaling 68 participants. Two of these groups were "eclipse chasers". The first tour was organized exclusively for the Toronto Centre of the Royal Astronomical Society of Canada (RASC). The 2nd was also an exclusive tour we had organized for a US based Eclipse specialist group. The third was a regular tourist group touring Libya, but timed to also view the eclipse. Challenging as it was to put together the logistics of such an organization in Libya, (it also involved spending two nights under tents), the Libyans responded very efficiently. One can still read reports and testimonials in the Internet – close to a decade later.

Yet another of our tour group was aboard the ice-strengthened M/V Aleksey Maryshev cruising on a 40-days expedition from Ushuaia, Argentina (the most southern airport in the world) to Cape Verde. They were towards the end of their expedition having landing at Bouvet, the loneliest island in the world. They viewed the eclipse in a whole different environment just after crossing the Equator. They had a clear unobstructed Atlantic Ocean skies.
The success of the Libyan Eclipse Expeditions led to other eclipse journeys with the Toronto Centre of the RASC. July 2009, it was on the historical Silk Road near Dunhuang, China and in November 2012 near Cairns, Australia. Next year, there are two related events in different countries. Central Kalimantan region of Indonesia will be one of the best places to view the Total Solar Eclipse. Then in September it is in my birth country, Tanzania where we will see an Annular Eclipse in Sep 2016.

Since our tours have always had a large content of cultural experiences, participants get the best of both worlds: eclipse viewing and visiting a country. The tours are of interest for those whose passion is in eclipse viewing as it is for the cultural enthusiasts.
The 13 days Indonesia tour includes seeing the orangutans at Kumai Harbor and Camp Leakey; visiting the UNESCO World Heritage Site of Borobudur, a six days unforgettable tour experiencing historical and cultural heritage in Ubud and Denpasar, Bali. Optional extensions to view volcanoes have also been arranged.
Melihat Anda di Indonesia (See you in Indonesia)
Click here for details
In Tanzania, the eclipse site is at Mbeya making it ideal to combine this with wild game safaris at two of the best game lands making this eclipse-viewing a safari of a lifetime. In Northern Tanzania, we will see the big five, tree climbing lions and a lot more in the natural settings at Lake Manyara, Serengeti, Ngorongoro and Tarangire National Parks. The post eclipse-viewing safari takes us to the incredible Ruaha National Park for a 4 days wild game safari - a whole different setting and species of animals and birds.
Karibuni Tanzania (Welcome to Tanzania)
Click here for details
Experience eclipse safaris with your team at Bestway Tours & Safaris

Posted by Mahmood Poonja, Chief Explorer




Related News -
Annular Solar Eclipse & Wild Game Safari
Total Solar Eclipse Indonesia