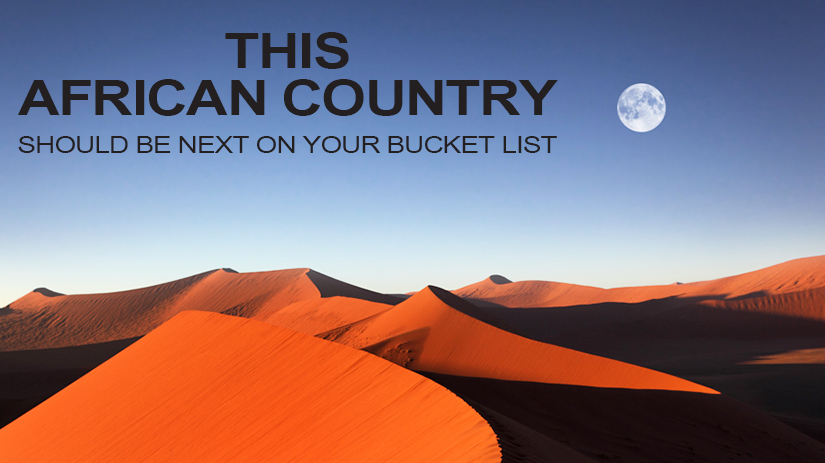 This African Country Should Be Next On Your Bucket List
From spending a season travelling throughout Kenya and Tanzania to following the Big Five in South Africa and Botswana, Bill and Mary Carstedt of Chicago, Illinois, have been to Africa many times. Their most recent, and perhaps most unique trip was a Namibia safari tour earlier this year.

On Bestway Tours & Safari's 10-day
Extraordinary Namibia
journey
, the Carstedts experienced the unique, space-like scenery of one of the world's oldest landscapes at Sossusvlei, were charged by an elephant at Twyfelfontein and much more. Read on to hear about their travel experience and top insiders' tips for those who want to visit Namibia.
Bestway: Namibia is a lesser known Africa holiday destination. What made you choose to visit? Bill and Mary: We were planning a winter trip to Arctic Norway, and felt we'd want to warm up a bit and enjoy more daylight hours before heading home.  Namibia is directly south of Tromso, Norway, so it looked like a natural for us! We have travelled to many African countries in previous years, but never to Namibia.  It offered wildlife, which we wished to see again, and unusual scenery.  It also seemed a relatively safe destination in a troubled world. Bestway: You've travelled with Bestway Tours & Safaris in the past to Indonesia. What made you choose to travel with us again? Bill and Mary: On our travels in Indonesia's Sulawesi and Papua New Guinea, we were pleased with the routing and timing, as well as the excellent tour guides and accommodations.
Bestway: How did you find your Extraordinary Namibia safari with Bestway? What were some of the highlights? Bill and Mary: The tour was a wonderful experience. When moving from place to place, we drove through the country's vast open spaces, on smooth (though often unpaved) roads, while our driver and guide explained the unique sites and wildlife we stopped to see along the way. The sand dunes of Sossusvlei - the oldest in the world - were a definite highlight.  Michael, our guide, encouraged us to pursue all the activity we wished, without pressure to exceed our ability or to shorten our time.  He was astonishing in his ability to locate wildlife, including a cobra lying in the bush about six meters from our moving vehicle! Twyfelfontein's prehistoric rock carvings were fascinating. However, the real highlight of our stop there was encountering a herd of 16 desert elephants, including several baby elephants. We were able to watch at close range until one of the larger ones decided they had seen enough of us and charged toward our vehicle, which had us quickly backing away! Explore for yourself: See our many incredible Namibia tours
Bestway: How did you find the accommodation on the tour? Bill and Mary: All accommodations were comfortable, and offered unique touches inspired by their location. The Namib-Naukluft Lodge was perfect for its desert setting, the guest house in Swakopmund especially fine in the breakfast service provided on the patio of our cottage, and the Etosha Safari Camp was great fun, with its entertainment and relics of the SWAPO independence movement.
Bestway: We heard that one guide had arranged a special surprise during your tour as well! Bill: Yes, they did. After a beautiful "sundowner" drive, and wine atop a mountain ridge while watching the sunset, we returned to dinner at the Namib-Naukluft Lodge. There I was surprised by six of the staff singing an African birthday song while presenting me with a bottle of champagne and a large, chocolate birthday cake!  We shared the cake with the 10 or so other dinner guests, and our guide Michael joined in on a memorable birthday celebration, which he had arranged through the lodge. It was a wonderful experience.
Bestway: The highlight of many Namibia safari tours is visiting Etosha National Park. Your thoughts? Bill and Mary: If we had to choose but one African park for wildlife, the large herds of animals on the Serengeti would take number one spot. However, Etosha was no disappointment. Game was abundant. No lions, but enough zebra, giraffe, and antelope of every variety to keep us engaged.  Seeing the great saltpan at the heart of the park was incredibly special too. Explore East Africa: If the Serengeti is on your African bucket list too, check out our Great Migration Safaris
Bestway: What are some of the top tips you would give to someone travelling to Namibia or doing African safari trips? Bill and Mary: Travel lightly.  Namibia is casual and comfortable.  The people there are warm, friendly and English-speaking.  The roads and facilities are good.  The wildlife seemed relatively unspoiled by human contact – they don't run away or threaten (except for that one elephant!). Bestway: Would you recommend this tour to others? Bill and Mary: Definitely.
As safari specialist for 40 years, Bestway Tours & Safaris offers a variety of small group cultural tours and safaris to Namibia and many other parts of Africa. Each itinerary can be customized to fit your needs, preferences and interests.
If you'd like to learn about other Bestway travel experiences, check out our blog articles below:

Find out why a couple who has visited 100 countries says you should visit the Balkans right now.
Discover why Kenya, Tanzania and Victoria Falls should be your first African safari vacation experience.
Explore the culture, ancient monuments and lavish modern-day architecture of the Arab Sheikdoms.

If you would like to share a travel story or photo of your own, we encourage you to reach out to bestway@bestway.com.

Posted by Kierra Jones