Culinary or food tourism is the pursuit of unique and memorable eating and drinking experiences, both near and far. There are certain cuisines that stand out as being food for the world. Taste buds go beyond one ethnic group or nation. Food is a very important element of culture and lifestyle. The art of cooking as well as the styles of eating and drinking often reflect the type of people. No cultural experience is complete without a culinary element. We have tours that offers culinary experience as both a primary as well as a secondary attraction. As Michael Palin puts it, "I am not a good cook, I am not a good artist, but I love art and I love food. So I am the perfect traveler." Join us in our selected culinary journeys.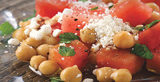 Duration:
15 days

A Culinary Journey with Nettie Cronish
Nettie Cronish is a natural plant based chef, culinary instructor, and author of 6 bestselling Canadian cookbooks. For the past 25 years, Nettie has been sourcing organic and sustainable ingredients and sharing her culinary skills with supermarkets,..
Read More >>>
Duration:
16 days


with the East India Company
In 30 years with three restaurants – two in Ottawa and one in Winnipeg, the East India Company are synonym to tasty indigenous Indian cuisine in Canada. Created by the patriarch, the restaurant chain is managed by a team of three passionate brothers – Sachit, Anish and Mitin..
Read More >>>